Keeping You And Your Valuables Safe From Intruders.
Don't Become A Victim, Learn How To Protect Your Valuables
Don't Become A Victim Follow These Steps To Ensure Your Most Precious Valuables Are Safe.   
It's a sobering and frightening thought that in the time it takes you to read this issue — "say 10 minutes" — 40 home burglary crimes will be committed in the US.-
That's one home burglary every 15 seconds.
Some of those home burglaries, as we have previously reported, will be by scam artists who previously checked the homes out by posing as legitimate visitors, talking their way in and maybe even opening a window in a bathroom for easy access when they return.
1. Always be aware of your surroundings and the people who are hanging around. Keep your head up and your eyes open. Listen to your internal voice and don't ignore it.
2. Avoid leaving your windows open when you are away from home, this is inviting to burglars.
3. Make sure it appears you are home while you're away. Light and moderate noise may deter burglars.
4. Arrange to have a neighbor pick up your mail, circulars and newspapers when you are on vacation. If that isn't possible, cancel all deliveries, including newspapers. Arrange with your post office to hold your mail or leave it with a neighbor.
5. Lighting is a great way to protect your property since bad guys don't want to be seen in the act of committing a crime. Call police if you see suspicious activities or people who may be up to no good. We are happy to check on them and you can be saving someone from being a crime victim
6. Make sure that your home has the address numbers clearly visible on your home and even on the steps in front of your house so that officers or firemen can see in case of an emergency
7. Use locks for yard gates which will limit easy access to your property and contents such as lawn furniture and barbecue grills.
8. Never advertise your departure. This may be easier said then done, especially for those who often share personal information on social networking sites (such as Facebook and Twitter).
9. Avoid door to door solicitors, especially concrete or roof repairmen. And never pay anyone for work before repairs are made.
10. Never allow people into your house to use your phone. Call for them if you are inclined to do so, or offer to call police and we will help them
11. Close and lock garage doors when you are not using them, an unlocked or open garage door invites thieves to your bicycles, lawn equipment or tools.
12. Lock your bicycles to a solid object even when leaving them in your yard or porch.
13. When riding your bicycle day or night, make sure that your clothes don't blend into the environment, "Be Seen" and make sure that drivers and pedestrians can see you. Always have reflective equipment and lighting on yours and your child's bicycles.
14. Do not leave your valuables in your car in plain sight as people pass by this invites crime, and always lock your car doors even when driving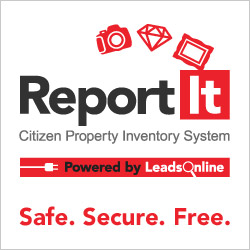 The ReportIt service is a part of LeadsOnline, the online system that works with police across the country to track and recover stolen property. The system allows detectives to search for the items.  When an item is sold to a pawn or secondhand shop, the product information is entered in the LeadsOnline database and is immediately viewable by participating law enforcement agencies across the country.
Other recovered items have included valuable jewelry, camera, construction equipment, iPods, tools, computers and GPS units. With information provided by LeadsOnline, police track down thieves, develop leads in numerous cases and make arrests.